How Boosting Facebook Posts Can Grow Your Law Firm's Network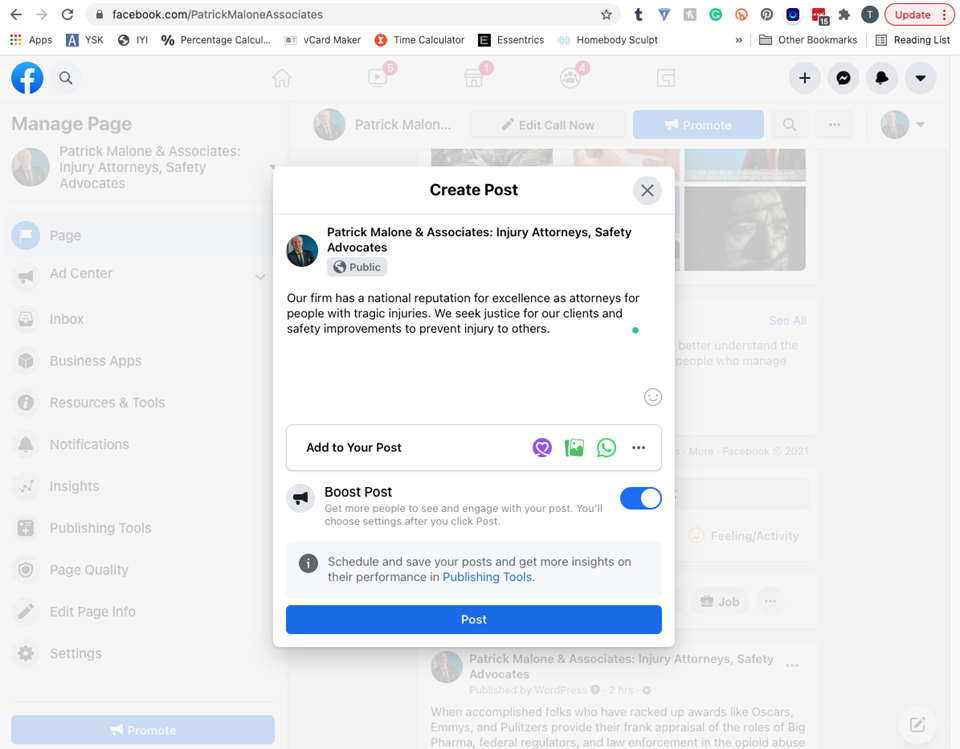 Facebook is by far the largest social network on the internet, boasting more than 1.8 billion daily users. But while that vast potential audience has obvious benefits for marketing a law firm, it can also make it harder for you to zero in on your prospects.
.
You won't be the only law firm vying for their attention, either. Millions of other businesses are active on Facebook, almost certainly including most of your competitors.

​Fortunately, Facebook offers a secret weapon you can use to put your content in front of the right eyes. With the "Boost Post" option, you can cut through the noise and reach your target audience with just a few clicks and a minor investment.

​Here's what you need to know.

What Does It Mean to "Boost" a Facebook Post?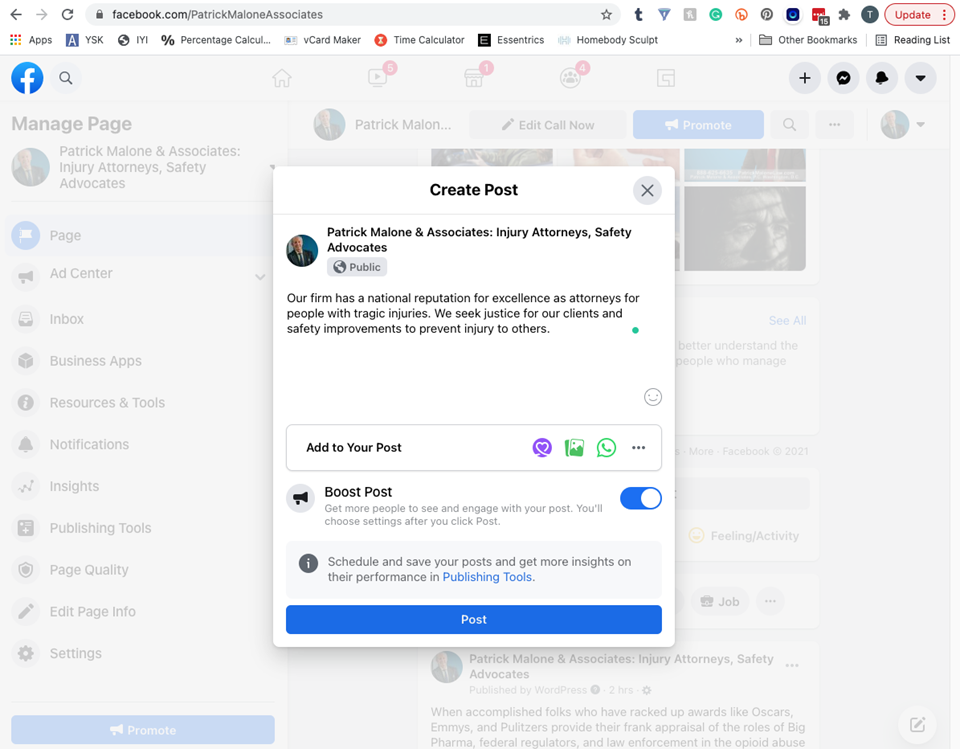 Boosted posts start out like any normal post on Facebook. You can include:
Text
Images
Videos
Links
Event invites
Then, when you boost the post for a small fee, Facebook will promote it on the timelines of your target audience.

It's the simplest (and cheapest) type of ad you can run on Facebook. In fact, you can boost a post for as little as $1 a day—though you can spend extra in order to reach more people.

But whether you invest $1 a day or more, money is money. Is it worth it? Let's take a look at the benefits.

The Benefits of Boosting Your Facebook Posts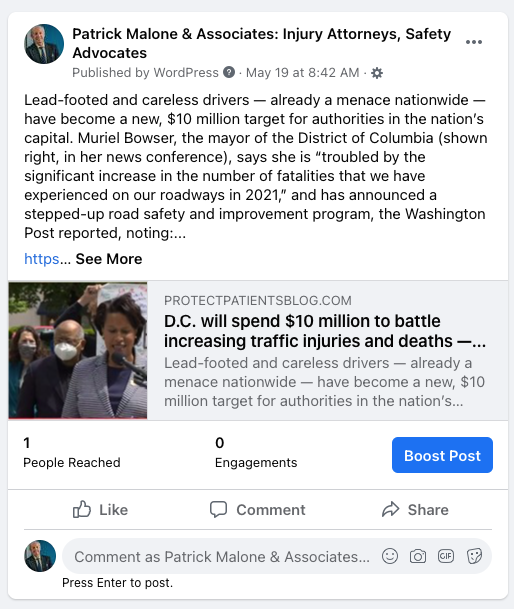 1. You Can Reach More of Your Audience
Your standard posts are already visible for people who already follow your law firm's Facebook page. But what about amplifying your brand and bringing in some fresh eyes?

When you boost a post, you can adjust built-in targeting options to make sure it shows up in front of demographics that are likely to be interested in your content. Once they're exposed to the value you provide, they may follow you, growing your audience over time.
2. You Can Extend Your Brand to Instagram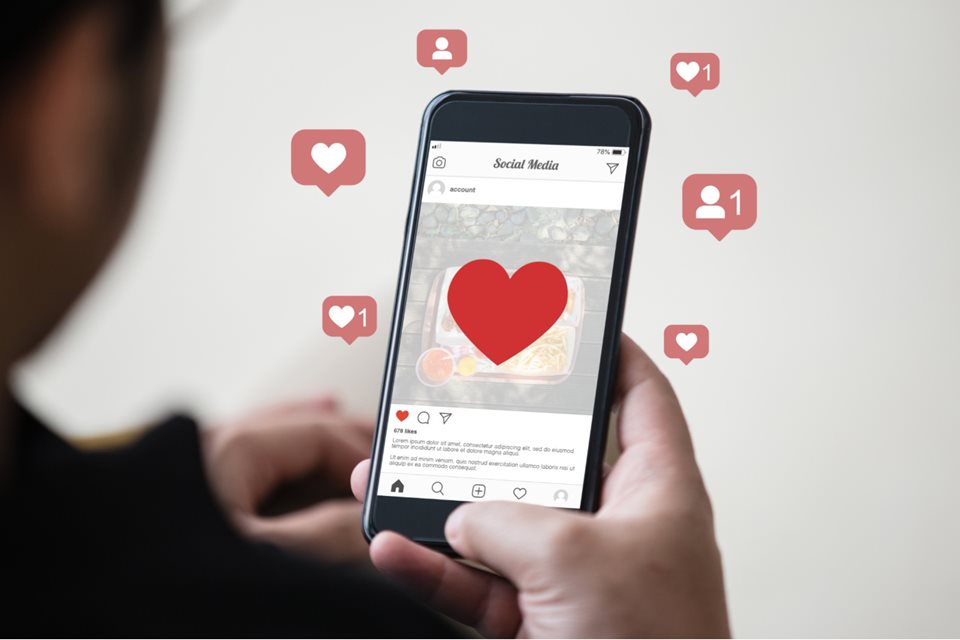 Not only is Facebook a titan of social media by itself, it also owns several other platforms, including Instagram.

Whenever you boost a post on Facebook, you can choose to make it appear on Instagram as well. This could streamline your entire social media marketing process, giving you twice the exposure for half the effort.

And when it comes to marketing, more efficiency is always better.
3. It Only Takes a Few Minutes
Boosting a post only adds a few extra minutes to the usual time of creating a Facebook post. Just set up your standard post like usual, click "Boost," select a few options, and you're good to go.

It all happens on one screen. You can even do it from a mobile device!

When you consider the benefits of reaching more prospects, the time commitment will more than pay for itself.
4. You Can Include a Call-to-Action Button
You can include a call-to-action button right in your boosted post. By making it that much easier for prospects to engage with you, you'll greatly increase the chances of them following through.
5. Facebook Analytics Will Help You Optimize Your Strategy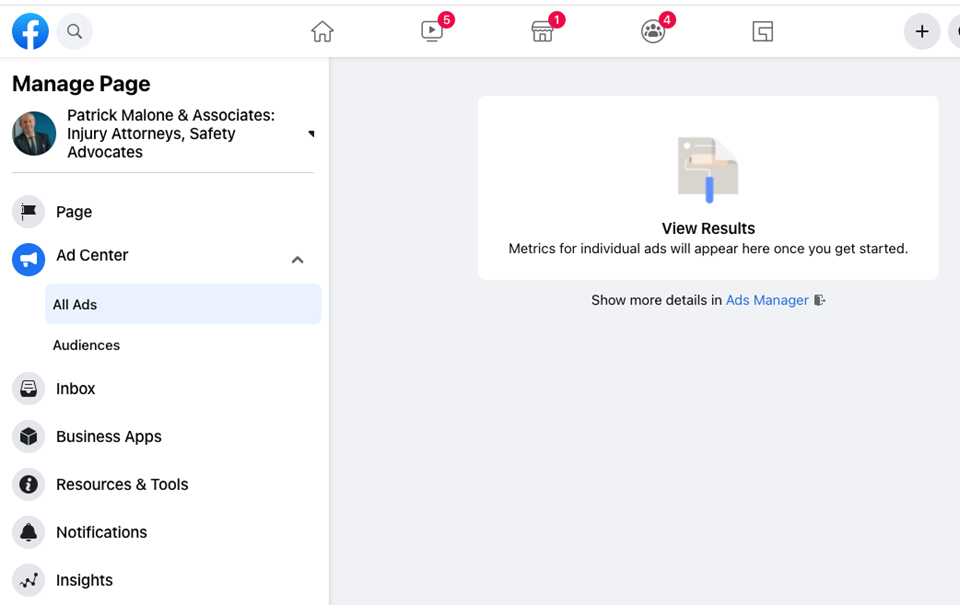 Boosted posts give you access to analytics, letting you see how well the post performed and what demographics you're having the most luck with. You can leverage this data to refine your strategy, especially if you try some A/B testing.

Try a few different approaches and see what gets the best results—then do more of that.
How to Boost Your Posts on Facebook
So now you know how boosting your Facebook posts can help you. How do you actually do it?

Don't worry—It's easy. Here are the brief steps to take.
1. Create a Post
To start off, just create a Facebook post as you normally would. Once again, that can be any kind of post, whether text, graphics, videos, or even a link to an external source.

You could also boost an existing post if you already have something you think would appeal to prospects.

Either way, once you have the post ready, just scroll down and click the blue "Boost Post" button in the bottom right of your window.
2. Select an Objective
A popup window will appear. In the upper left corner, you'll see an "Objective" section.
If you don't have a clear goal, it will be tough to determine whether the post accomplished it or not. Your goal could be something like:
Increase engagement on your Facebook page
Raise your follower count
Send traffic to your website
Generate leads
Facebook will then tailor its analytics based on your choice. For example, if your goal is to draw traffic to your website, you'll judge your success based on how many users clicked on the URL in your post.

The default setting is "Automatic." This means that Facebook will choose a goal based on your settings and the details of your page. However, if you don't have a clear goal in mind already, maybe boosting a post isn't the best use of your resources.

Click "Change" and select an objective that aligns best with your goals from the popup that will appear. Then, hit "Save."
3. Choose Your Target Audience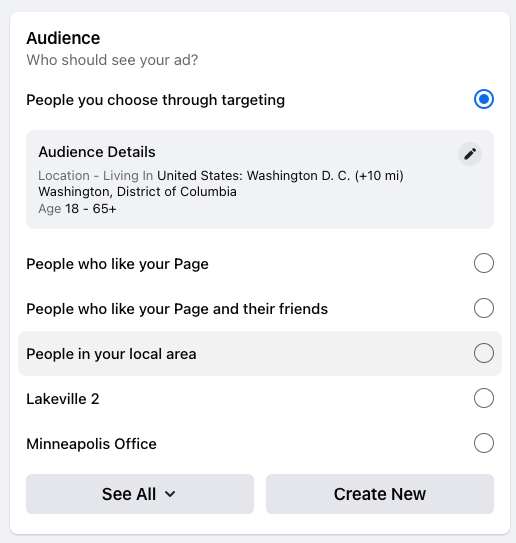 Below the "Objective" field, there's a section dedicated to picking your ideal audience. This will determine which demographics Facebook targets when promoting your boosted post.

You can choose:
People who already like your page
People who like your page plus their friends list
A new, custom audience
With that last one, you can adjust your target audience by their gender, location, age, and more. (You might be surprised how specific you can get.) As you make changes to the target demographic, Facebook will show you your estimated results.
You can even save your customized audiences in order to select them more quickly when you boost posts in the future.
4. Choose Duration and Timing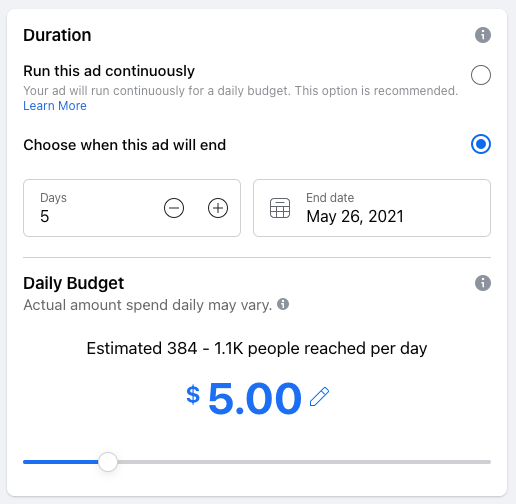 The next section lets you decide how long you want to boost the post.
Then, if you switch on the "Run Ad on a Schedule" toggle, you can set your ad to only be promoted on certain days of the week or at certain hours. If there are specific times when your prospects are most likely to be active, you can reserve your promotion for those periods.

Alternatively, if the purpose of your boost is to get prospects to call or email you, you can promote the post during your normal hours of operation to make sure someone will be answering the phone.
5. Set Your Budget
In this section, you can choose the total amount of money you'll spend for the duration of the boost. The minimum is $1 per day.
For example, if you want to boost your post for 10 days, the minimum budget would be $10, with $1 spent per day. If you add a budget of $50 instead, you'll be spending $5 per day.
6. Enter a Payment Method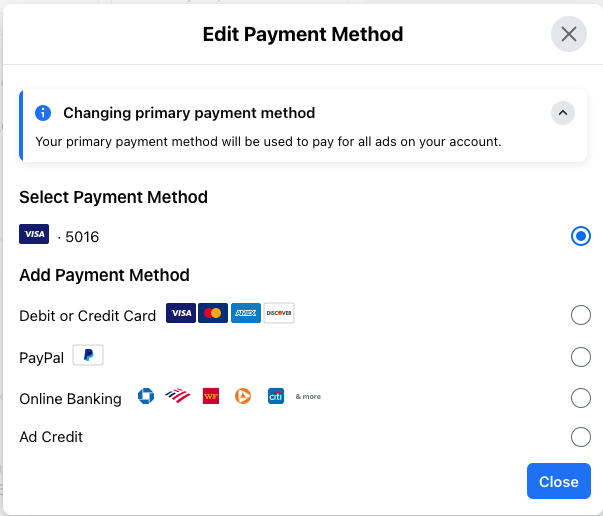 Here, you'll enter the payment method you'll be using to cover your budget. If you already have at least one payment method attached to your account, you can select the appropriate method.
7. Check Your Ad Preview and Boost Your Post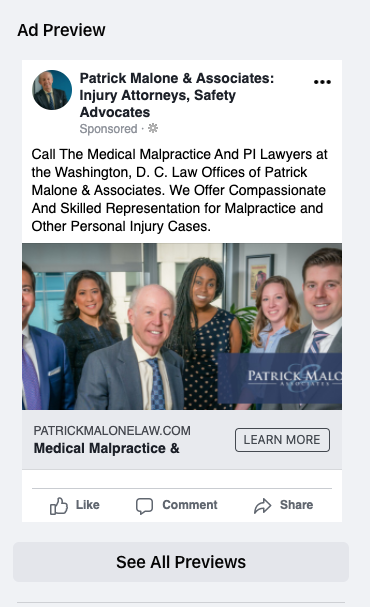 Throughout this process, you'll see a preview of the boosted post in the popup window. Double-check that the preview looks right.
When you're happy with what you see, go ahead and click "Boost Post Now."

And that's it! You've boosted your first Facebook post. Each step is quick and easy. Odds are, you'll be done in less than 5 minutes—and getting results in no time.

Keep an eye on the analytics as they roll in. If your post isn't achieving the desired result, tweak your approach and try again. With time, you'll find your stride.
Boost Your Facebook Posts and Raise Your Visibility Online
By boosting your Facebook posts, you can amplify your law firm's brand, attract prospects, and grow your professional network. Best of all, it's quick, easy, and inexpensive.
However, truly getting the most out of your Facebook page still takes time and energy. How about letting someone else handle the headaches?
At Let America Know, we help lawyers across the nation improve their internet marketing strategies through social media and email. Just contact us, and we'll give you the expert support you need to kick your online outreach into overdrive.

Click here to check out our done-for-you social media program for trial attorneys.