How to Create a Facebook Page for Your Law Firm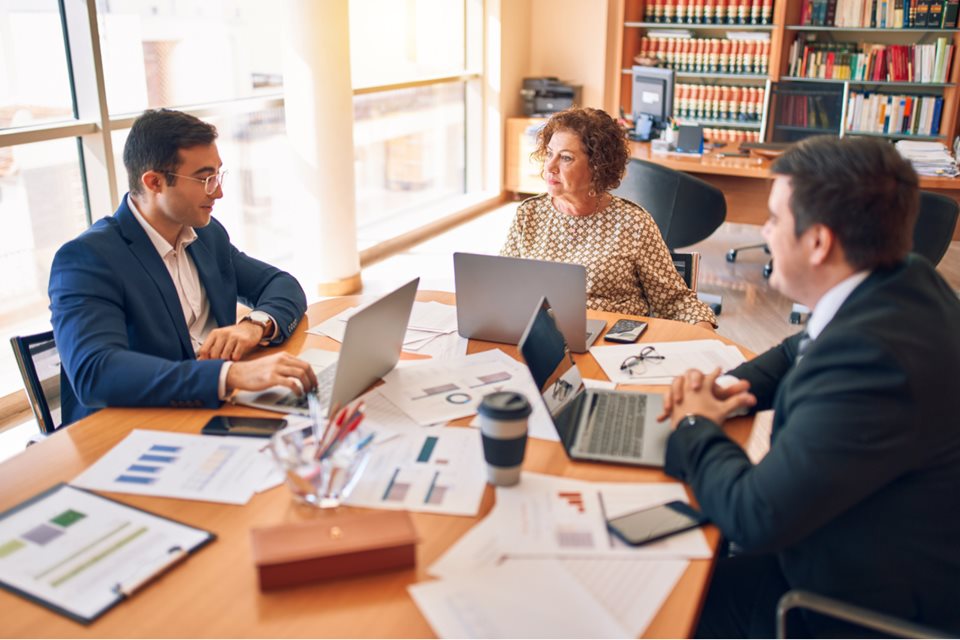 In the age of the internet, social media is a great way for law firms to expand their online outreach. It can help you engage with your target audience, attract fresh leads, and network with fellow professionals.

And when it comes to social media marketing, Facebook is king. On average, 1.8 billion people use Facebook every day, and more than 200 million other businesses are already trying to connect with that massive audience.

Are you ready to take advantage of the unique benefits that a strong Facebook presence can offer your legal practice? If so, you've come to the right place.

The good news is that setting up a Facebook business page for your law firm is quick, easy, and completely free.

Here's what you do.
1. Sign Into Your Personal Facebook Page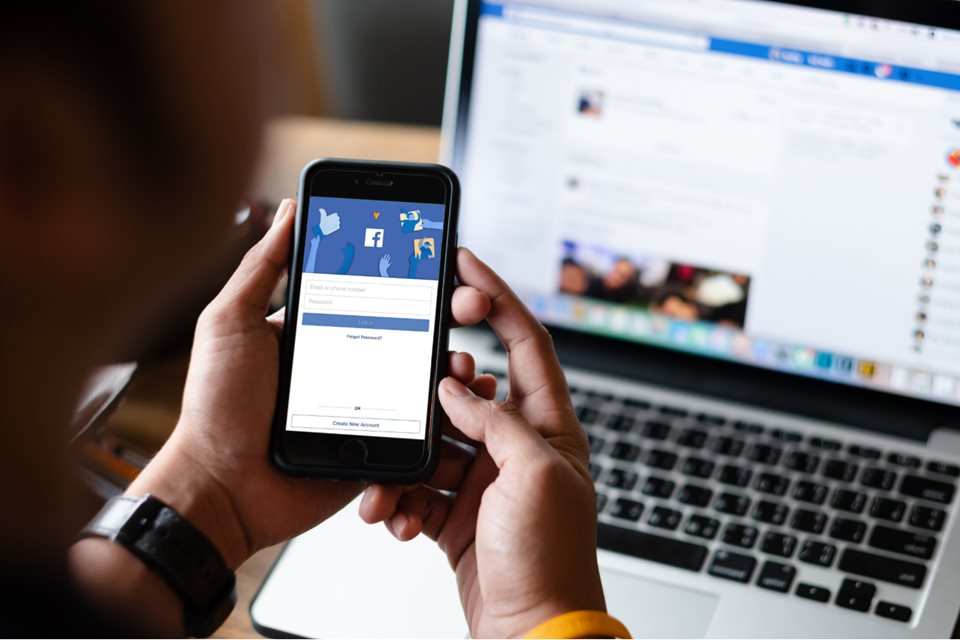 Before you can set up a Facebook business page, you'll need to log into your personal Facebook account. You'll be using your personal account to manage your law firm's business page, but don't worry—none of your personal page information will be visible to the public.

(Of course, if you don't have a personal Facebook page yet, you'll need to create one first. Fortunately, that's a quick and easy process too.)
2. Start Your Business Page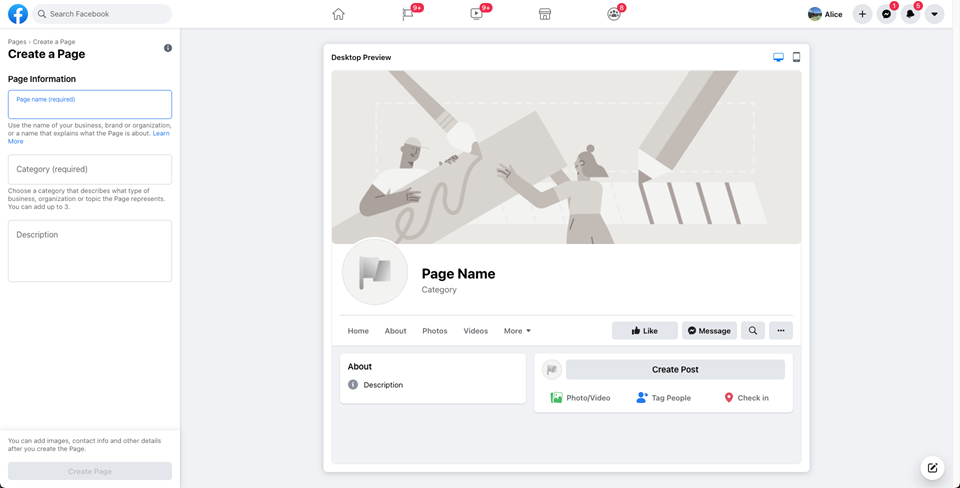 Once you've logged into your Facebook account, head over to facebook.com/pages/create.

You'll have two types of pages to choose from: "Business or Brand" and "Community or Public Figure." In most cases, lawyers and law firms will want to select the "Business or Brand" option.

Just click the "Get Started" button in the appropriate box and you're off to the races.
3. Add Some Basic Information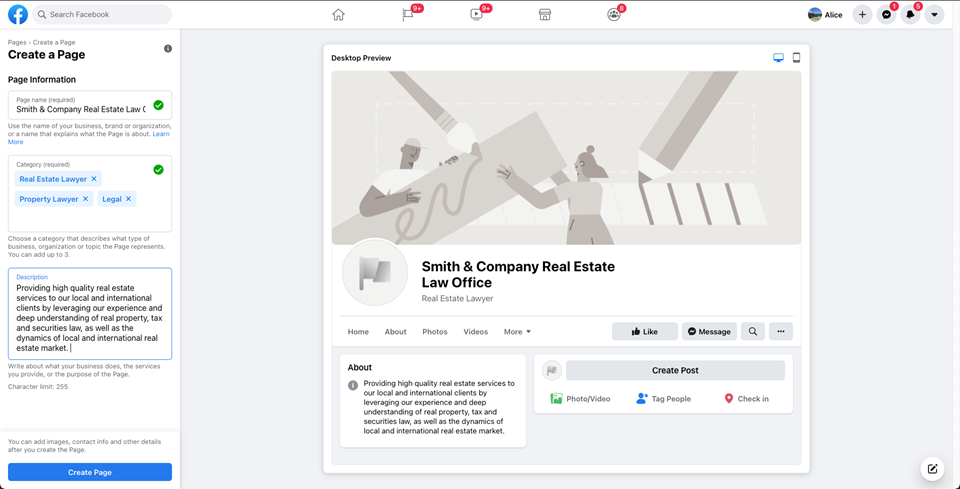 A page will appear with a form requesting some basic information about your law firm, along with a preview of your law firm's profile. As you fill out the fields of the info form, the preview updates to show you how your page will look once published.
Page Name
Category
Description
For the Page Name section, simply add the name of your law firm.

Next up, you'll have to select a Category for your business. The big-picture category is "Lawyer & Law Firm," but there are more specific options too, such as:
Criminal Lawyer
Personal Injury Lawyer
Divorce & Family Lawyer
Estate Planning Lawyer
Real Estate Lawyer
Property Lawyer
Bankruptcy Lawyer
Entertainment Lawyer
Labor & Employment Lawyer
Corporate Lawyer
Juvenile Lawyer
Facebook lets you add up to three categories, so consider adding Lawyer & Law Firm as well as the area of law your firm specializes in. By adding your specific legal niche, you can increase your chances of reaching more targeted prospects.

For example, if you opt for "Divorce & Family Lawyer" or "Juvenile Lawyer," you'll be more likely to show up in relevant Google searches.

The last step is the Description. Unlike the law Page Name and Category sections, this field isn't required. Theoretically, you could create a page without adding a description—but it's always a good idea to write one.

Facebook only gives you a 255-character limit for this, so it will have to be brief. Just give a quick overview of your business and show how you're different from your competitors.

Once you've filled out these three fields, click the blue "Create Page" button.
4. Upload Photos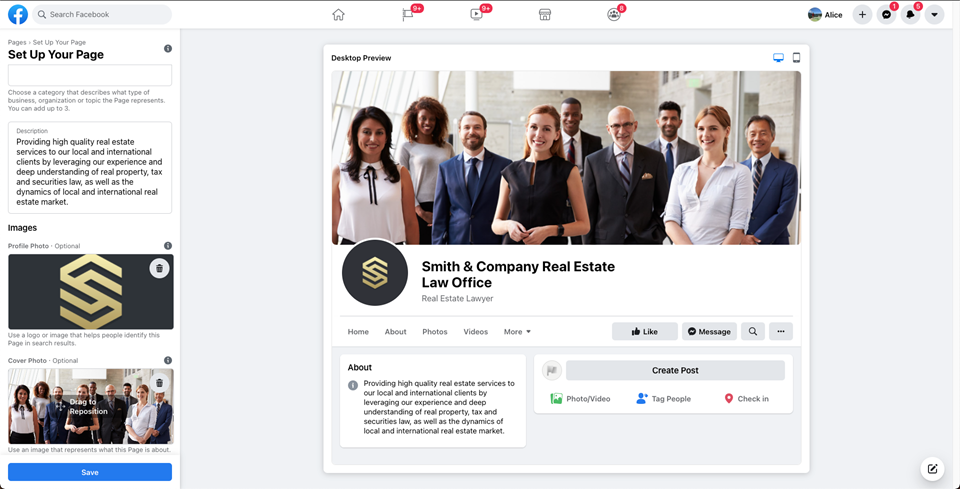 Two boxes will appear on the form prompting you to upload a profile picture and cover photo for your law firm. These images are what your visitors will notice first about your page, so make sure to pick images that create a good impression.

The best choice for a profile picture is usually your law firm's logo unless you are a solo practitioner or the public face of the law firm. Regardless, it should be the most recognizable symbol of your business as it helps establish your brand right from the get-go.

As for the cover image, you can get a little more creative. This will appear as a banner image at the top of your page, and may be the most noticeable part of your entire profile. Some good options include:
A photo of your whole team
A picture of your offices
An eye-catching graphic with your firm's motto, slogan, or value proposition
Pro tips: Look up optimum image sizes for Facebook profile photos and cover images for best results. Also be sure to integrate branding that is consistent with your website and all other promotional materials, including other social media.

Once again, as you upload the images, the preview on the left will automatically update to show you how the finished product will look. If you're happy with everything, click the "Save" button.

The page is now technically complete. But such a sparse presentation won't do much to draw traffic or impress visitors. In order to really stand out from the crowd, you'll want to add more content.
5. Fill in the Details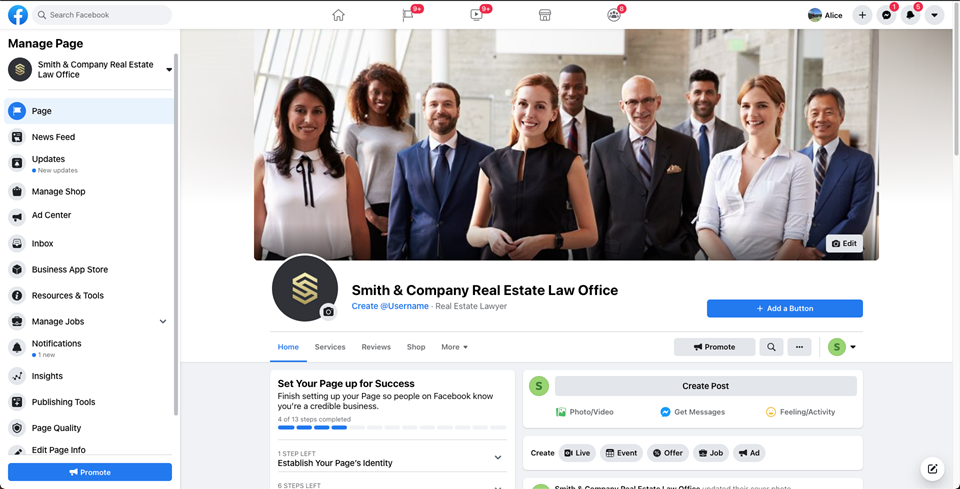 Click "Edit Page Info" in the toolbar on the left of your screen. This will bring up a panel you can use to fill out more information about your law firm. (This is also where you can edit your business description and category selections.)

First off, it's a good idea to set up a username. (You'll see a field for this right under your business name in the panel.) Your username is how you tell people where to find you on Facebook, and how people can tag you in their posts.

Your username can be up to 50 characters long, but don't make it any longer than necessary. Generally, your username should be whatever comes to mind first when your prospects are looking for you, so typically your business name or some variation. The challenge comes when another business has the same name or one very similar.
After the username, , fill out more information, including your law firm's:
Phone number
Email
Website URL
Address
Service area
Hours
Privacy policy
Links to other social media accounts
You can also use the "Additional information" box to elaborate on your law firm and the services you provide. The character limit here is 10,000, so you can go into more depth than you could in the initial brief description. (Consider repurposing the About page from your website.)

This is also a great opportunity to add some relevant keywords to help with your law firm's SEO strategy.
6. Publish Some Content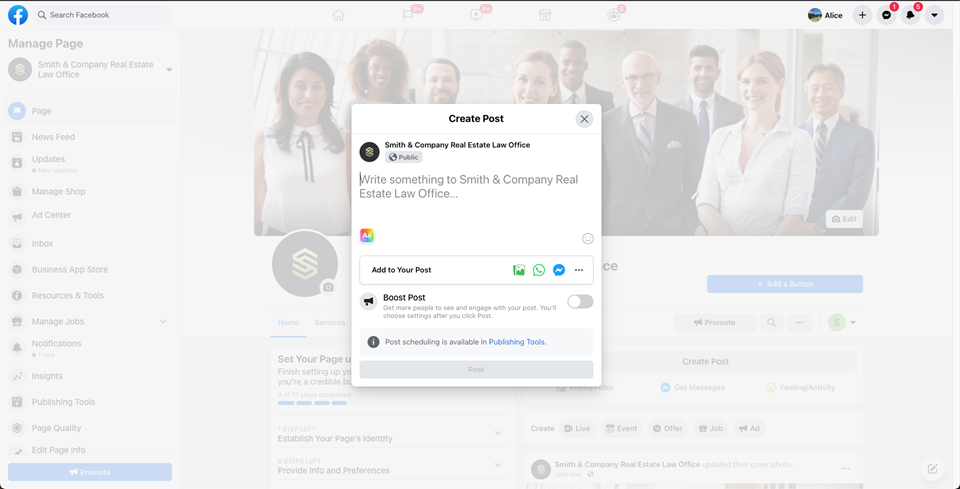 Once your page starts drawing visitors, you won't want them to discover a digital ghost town!
Regularly publish content such as:
Practice updates, including case results
Personnel recognitions and awards
Law firm events
Community and charitable activity
Client reviews
Photos or images with every post
Videos as often as possible
Links to external content such as blog posts
Having plenty of fresh content on your page will make it more enticing once new visitors show up. They'll see that you're active and engaged, a big first step toward a successful social media presence.

Whatever you post, make sure it's relevant to your target audience. You can use this content to provide value, establish credibility, and demonstrate a willingness to engage with the community.

And that's it! Your law firm's Facebook page is live and visible to the world. Congratulations!

Of course, setting up a Facebook page is only the beginning. To get the most out of your social media, you'll need to stay active, engaged, and informed. As a busy professional, you may not have the time or energy for that.

(And even if you already have personal experience with social media, professionals often make these common mistakes.)

If you'd rather pass on the headaches of creating and managing your law firm's Facebook page, we're here to help. At Let America Know, we provide attorneys across the U.S. the support they need to optimize their social media and email marketing strategies.

If you'd like some help picking the right platforms, setting up your accounts, and making them work for your practice, take a look at our done-for-you social media program for trial attorneys.